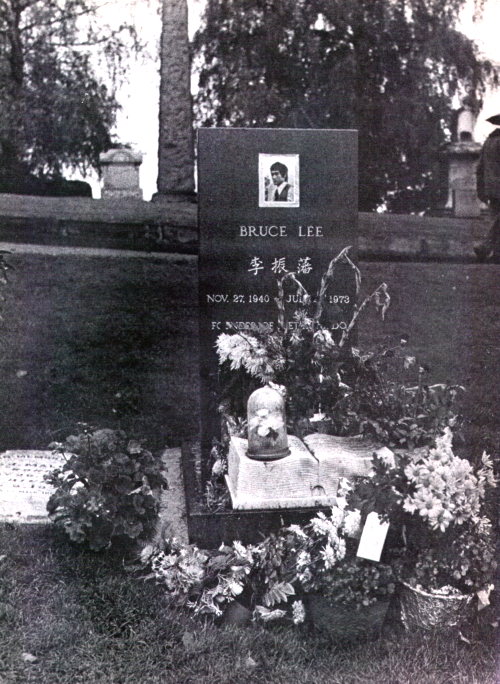 Battle's Lakeview Cemetery is a living memorial to many of the original pioneers from the Northwest. The first mayor of the city and the first territorial governor are but two of its more famous occupants and field trips staged by local grammar schools are a common occurrence.
It's fitting then, that Bruce Lee – a man generally recognized as one of the most innovative pioneers in the martial arts – should share his final resting place with other great men who helped change history.
Lee's grave site, sitting at the top of a small knoll, is easy to find. It is continually covered with gaily colored flowers left by martial arts pilgrims paying homage to the "Little Dragon's" memory.
One Lee follower from England has even purchased a "perpetual" order from one of the nearby florists to insure there will be flowers on his grave "forever."
And, despite the fact that he's been dead for almost two-and-a-half years, the famous innovator of jeet kune do is never lacking for visitors.
Arnold Sorenson, a caretaker who has worked for Lakeview for nearly 40 years says, "They keep coming. They come in and ask if they could find a 'very special grave.'"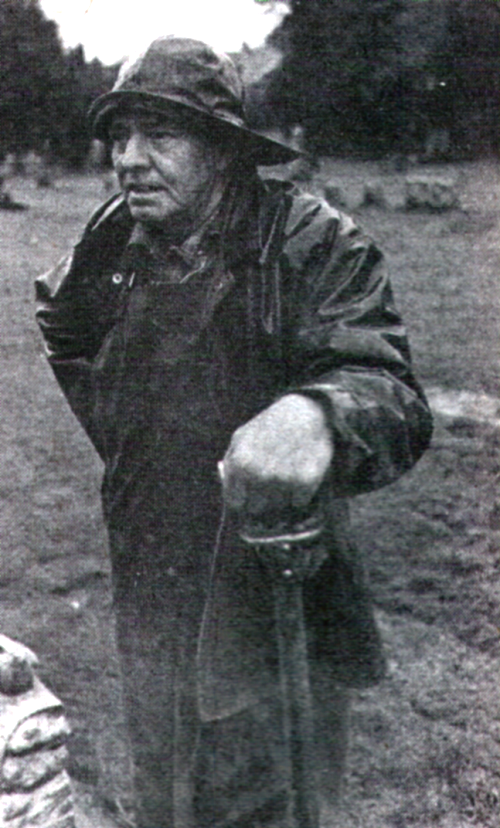 The old man leans on his shovel and laughs. "I say, 'You can find Bruce Lee right up there.'"
He laughs again and adds knowingly, "I know who they want to see."
Another old man, who is apparently a nearby resident taking a quiet walk through the cemetery, approaches two young men idly inspecting the aged tombstones. "If you're looking for Bruce Lee's grave," he says helpfully, "it's right over there."
A beat up old cane is lifted spryly into the air and points toward the flower bedecked grave. The two young men thank him and head up the knoll.
"Almost anybody around here can tell you where it is," he says to no one in particular as he walks slowly away.
The winter rain glistens on the old caretaker's slicker as he leans back and cups his hands protectively to light another cigarette.
"It doesn't matter what kind of a day it is," he says, nodding his head at the gloomy drizzle. "They come anyway. I am surprised because since he's been here, the visitors have run into the thousands."
Sorenson also willingly admits that all the attention aimed at Lee finally got the better of him and he is a man who's used to working with celebrities.
"My curiosity finally got to me," he says laughing again, "and I went down and saw a couple of his movies. I was impressed. I'm a fan of his now too."
Taking a final drag off his soggy smoke, he flips it into a rain puddle and turns back to work. "Yeah," he says gripping his shovel and heading for the fresh grave he'd been tending, "that guy Lee must have been quite a man."