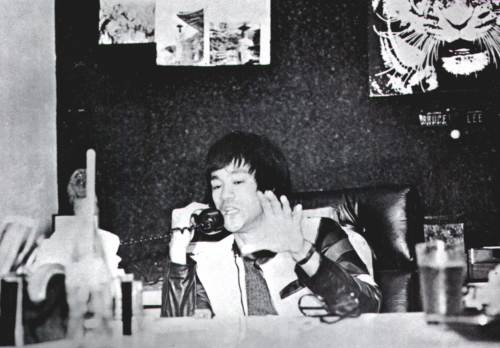 On the wall of Bruce's office, there hung a pair of old and broken glasses. Its frame was broken, with tape connecting the two parts.
The screw was lost, and the space was filled by a piece of iron wire. It had a frame, but no glass. It had lost its practical value. But Bruce valued it very much and hung it on the wall.
Actually there was a reason behind it.
It was because he had worn this pair of glasses in his hard times. At that times, he was so poor that he had no money to change for a new one. It was only after a hard struggle that he could obtain his present fame.
He always reminded himself: DO NOT FORGET YOUR PAST.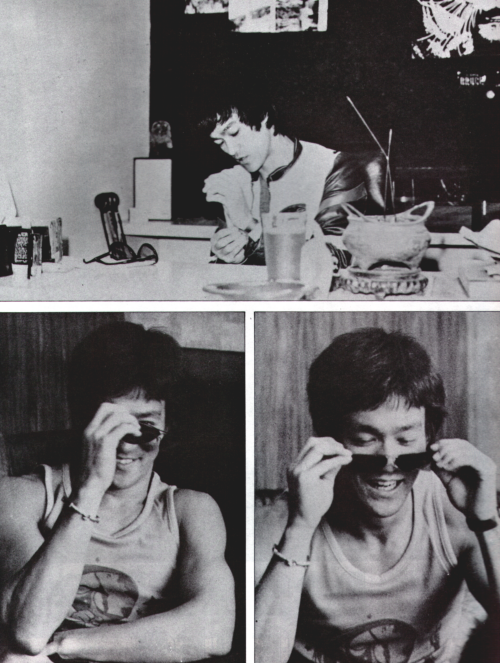 Before the wall, opposite to the door, there was a muscle training machine. It was used to keep one fit. It was especially important to keep him fit for he had to fight in making his film.
Bruce had expressed that the more successful man had to be more careful in keeping one fit.
Without question, in his present position, Bruce Lee could live comfortably. But like other empolyees, he went to his office everyday, and worked.
However, once he reached home, he would not talk about his work, just enjoy his family time. He would spend time with his family, or practise martial arts.
He made a clear distinction between his public life and his private life.
Bruce did not like social parties, nor night clubs. In his leisure time, he would like to be alone and enjoy his quiet life without any interruption.
Even in his office a slip was sticked: "If it is not an important matter, don't bother me."